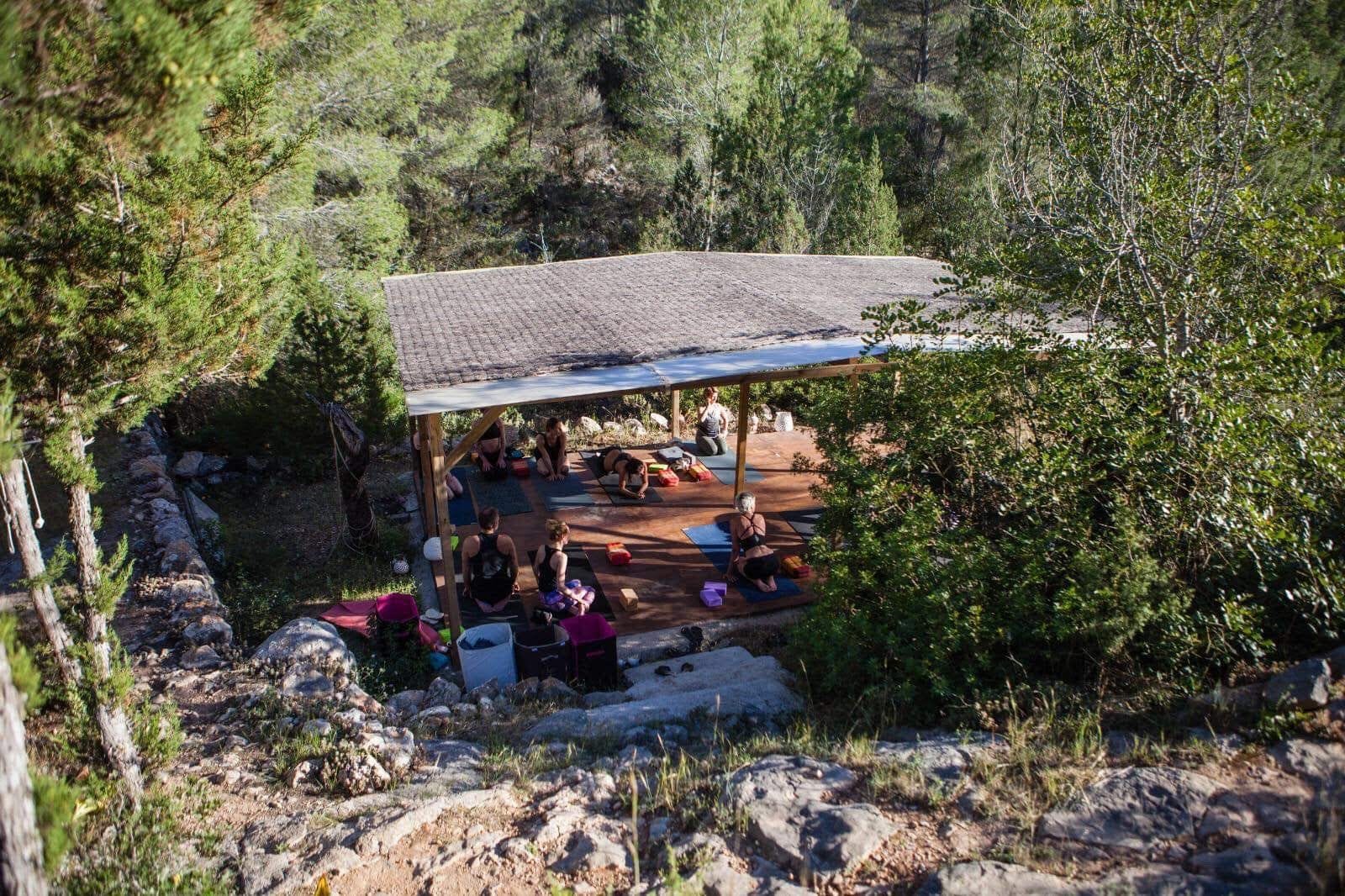 Re-Awaken:
True Self-Love & Instinct
Yoga - Ritual - Detox & Ayurvedic Massage Retreat
March 26 - April 2, 2022, IBIZA
at the Mystical Wellness Sanctuary Lalita Ibiza
The perfect Spring Retreat:
A complete and life-giving retreat experience for all who want to heal, purge, love and re-awaken the innate powers and potentials of the true Self...
Tiziana Campanellino (Guna Thai Massage) - the "Mother of Self-Love" - and Yogangelika take you on a journey to find and practice real self-love and strength as the being you were born to be!
Take this cleansing journey into the deep nature of yourself.
Purify the old and get in touch with your instinct.

Learn or re-learn and apply the original power and essence that the tools of Yoga, Ayurveda and ancient rituals bring.
Your Retreat Centre - Lalita Ibiza:
Lalita Ibiza is a mystical and wellness sanctuary dedicated to the healing arts. Located North on the magical island of Ibiza in the womb of Portinatx, surrounded by nature's magnificent beauty, near Ibiza's wild beaches and the best hiking tracks, the centre invites you to receive the transformative power and high vibrations of the Scorpio island.

Lalita in Sanskrit is the divine mother who is engaged to Lila (play). Her play is her creation, maintenance, destruction, dissolution and blessing of the universe. Lalita Ibiza is a home where you are nurtured in your transformation process - offering you a healing refuge that brings you balance and harmony.
Our Villa: We will have our own villa "Sa Fe", with five bedrooms (White Tara, Green Tara, Kuan Yin, Lemanja & Mary Magdalena) and our own private swimming pool and lovely mountain views.
The rooms: They have been designed with the intention of invoking the Divine Mothers nurturing and soft energies through the presence of the Goddesses. This intention of spiritual connection to the divine feminine creates a serene space allowing you to bathe in the compassionate mothers energies supported by the moon phases.
More about the sanctuary: Lalita Ibiza
With honor and pleasure we invite you on a Full week (7 nights) Retreat to go within and awaken your truth:


cleanse your body and mind with 2 days of partial fruit/juice fasting and noble silence
themed yoga classes twice daily (asana, pranayama, different meditation techniques)
rituals
workshops on the science of life
Ayurvedic self-massage / partner massage and food
themed lectures (psychology, cycles, instinct...)
chanting circles, dancing, dynamic meditation
temple night & new moon ceremony...
free time to relax and enjoy the island
and discover how to apply self-love rituals at home and setting your intentions for your new life.
Everything surrounded by the Mystical Villa & Wellness Sanctuary Lalita Ibiza www.lalitaibiza.com - enjoying a pool, doing yoga on the wood deck in the middle of the forest, chanting around the fireplace looking at the stars, discovering the area, the nature, beaches, the beauty of the island… and to treat yourself with a full body thai massage!


Programme layout*
Slow Fasting / Fruit Cleanse: we invite you to start with 2 days of light fasting (fruit / detox juice/soup) to assist your inner spring cleaning and ignite your inner fire (for any medical conditions we will adjust - please advice)
Noble Silence: we invite you to approx. 2 days of full silence (and partial silence further on) - this will give you the opportunity for an additional mental detox and declutter


Arrival - Check-in - Welcome Circle
Yoga Roots Evening Class - Fruits / Juice / Tea (Light Soup)


7:30 - 9:30: Morning Yoga Practice Hatha/Ashtanga (= Meditation, Pranayama, Asana)
Fruit & Detox Juices & Tea
11:30 - 13:30 Ayurveda 1 Workshop & Self-Massage Introduction - Free Time
15:00 - 17:00 Ayurveda 2 Workshop & Self-Massage
17:15 - 19:00 Evening Yoga Flow of Life / Yin Yang & Guided Meditation
Noble Silence, Tea / Fasting (or Miso Soup)

7:30 - 9:30: Kriya Yoga Rituals & Morning Yoga Practice
Fruit & Detox Juices & Tea
10:30 - 13:30: Workshop Ayurvedic Belly Massage
Free Time
17:00 - 18:45 Evening Yoga Practice: Yin & Restore "Your Inner Intuitive" and Breathing
Light Soup Dinner


7:30 - 9:30 Kriya Yoga Rituals & Morning Yoga Practice
Full Breakfast - Free Time
14:00 - 16:00 Afternoon Workshop: Ayurveda Food & Qualities of Nature
16:30 - 18:00 Evening Yoga Practice Ashtanga Vinyasa (simplified/accessible)
Vegetarian/Ayurvedic Dinner
20:30 Sound Bath


Day 5 Wednesday - island day!
8:30 - 10:30 Meditation, Pranayama, Chanting & Morning Activation Full Body Self Massage
Full Breakfast
FREE DAY (optional beach day, collective/individual excursions, hiking…)
Dinner and 20:30 Ecstatic Dance (optional)


7:30 - 9:30 Morning Rituals & Morning Yoga Practice
Full Breakfast - Free Time
14:00 - 15.45 Workshop Thai Massage working on Partner (give/receive session)
16:00 - 18:15 Evening Lecture Psychology & Instinct/the forgotten feminine powers within all humans & Dynamic Meditation (Osho 5 stages)
Dinner and 20:30 Chanting & Temple Night!


7:30 - 9:30 Morning Rituals & New Moon Yoga Flow
Breakfast
11:00 - 13:00 Workshop Self-Care, the 4 phases of the Cycle & True Self-Love: applying self-love and rituals into your daily life, job/missions and relationships
15:00 - 17.00 Workshop Head Self-massage (relieving anxiety, depression, headaches, nervous system...)
17:00 - 18:00 Yin Yoga Practice
Dinner and 20:00 New Moon New Intentions, Fire Circle, CACAO Ceremony, Dancing Night!


7:30 - 9:30 Meditation & Asana Practice & Questions
Breakfast, Packing/Check Out
11:30 Closing Circle - Departure

* Programme can be slightly adapted
Retreat Language: ENGLISH
Other languages spoken by your facilitors: German, French, Italian and Spanish

Treat yourself - we take care of you: In your free time you can book your Thai Yoga Massage treatment (1h or full 90min) from Angelika or Tiziana (available times and prices on request)

Retreat Costs:
Early Bird price - full retreat: 881€ (for bookings by 15 Feb 2022)
Full retreat price (after 15 Feb): 981€ per Person
Includes: accomodation in our villa (in one of our 4 double rooms or 1 triple room), fruit, detox juices, tea, breakfasts, dinners, all classes/workshops/lectures/ceremonies.
Maximum number of retreat participants: 9

For bookings and questions, please leave me a message here on my website >CONTACT ME or Whatsapp +43 6644853392 or get in touch via email yogangelika@gmail.com or gunathaimassage@gmail.com


Tiziana & me are so excited to share this special journey with you
and we look forward to welcoming you on Ibiza!
Tiziana Campanellino
- Thai Yoga Massage Therapist (cert. by Sunshine Network)
- Ayurvedic Abhyanga Self Massage Facilitator
- 200h Ayurveda TT student
- Osteopathic Practitioner
- Self-Care Specialist - Positive Mind and Soul & Life Lover
(instagram: Guna Thai Massage)
Angelika Seidl
- Experienced Yoga instructor
(500h certified - Indian trained, Austria/international)
- Thai Yoga Massage Therapist (cert. by Sunshine Network) & Energy Work
- Health, Movement, Dance
- Psychosynthesis Leadership Coach
- Natural Farming - Sustainability - Music/Mantra - Poetry & World Traveller